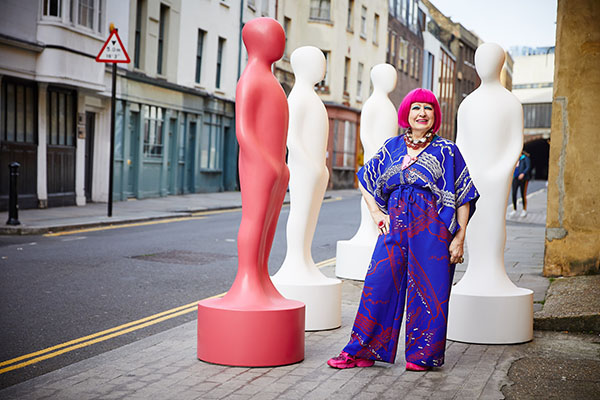 We are thrilled to announce international fashion icon and 'Princess of Punk', Dame Zandra Rhodes as the official Creative Ambassador of 'Gratitude'.
The British fashion and textile designer, who founded The Fashion and Textile Museum in the early 2000's, revealed the news outside the FTM building situated on London's Bermondsey Street, where she was safely united with three of the human form sculptures which will be part of the installation.
As Creative Ambassador her role will include designing her very own Zandra Rhodes sculpture, engaging the support of influential artists and designers, welcoming open submissions from creatives from across the UK, curating the designs selected with the Wild in Art team and making key announcements as the project's creative spokesperson.
Most recognised for her original use of textiles and revolutionising garment shapes through how her textile prints dictate the silhouette, Rhodes was one of the first designers to incorporate street- style punk into couture. Over the span of Rhodes's 50-year career, she has designed for clients as diverse as Jacqueline Kennedy Onassis, Barbra Streisand, Paris Hilton, Joan Rivers, Lauren Bacall and Diana, Princess of Wales.
Talking about her new role and being part of 'Gratitude', Dame Zandra Rhodes said:
"2020 has been a hard year for many. The Gratitude project is allowing myself and like-minded artists and creatives to give back to our valued and amazing NHS staff and other key workers in the form of art. What better way to collaborate and design for such an important cause!"

"I am looking forward to designing my very own statue, it is always so fun to work in 3D on projects like this. It really brings my patterns and colour sense to life. It will also be so exciting to see other artists' submissions and how different people will adapt the brief."
The high profile names taking part in Gratitude will be balanced with Wild in Art's continuing ethos to provide a platform for professional and emerging artists and designers to showcase their work as part of a unique installation. Zandra comments:
"This is imperative, especially in today's climate. The art industries are struggling and projects like Gratitude provide a much needed platform for creative minds to get their work seen and appreciated especially when promoting a good cause".
Zandra's own lifestyle is as dramatic, glamorous and extroverted as her designs. With her bright pink hair, theatrical make-up and Andrew Logan jewellery, she has stamped her identity on the international world of fashion with her unparalleled creativity.
When asked what she would be looking for when selecting the other Gratitude sculpture designs, she said:
"Colour of course! We are celebrating and thanking our key workers and I think with all the doom and gloom we have had this year it would be great to see lots of colour incorporated within the submissions."
Charlie Langhorne, Managing Director and Co-founder, Wild in Art said:
"We are absolutely delighted to have inspirational designer and fashion icon Dame Zandra Rhodes on board as our Creative Ambassador for Gratitude."

He added: "This is going to be a once in a lifetime piece of collaborative public art, which will pay tribute to our amazing NHS staff and all key workers, and we look forward to Zandra bringing her inimitable style and vast experience to the project."