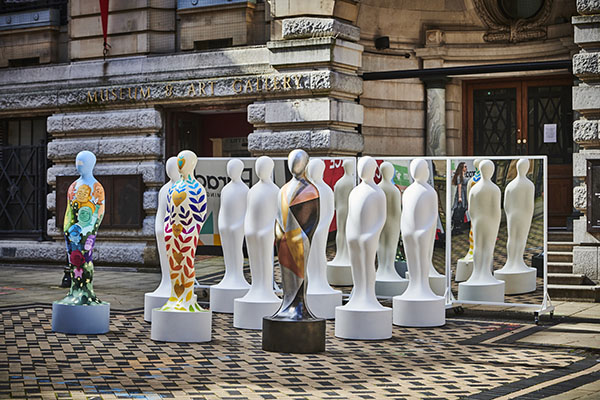 The UK's best online grocer, Ocado Retail, has been confirmed as the second named sponsor for the much-anticipated 'Gratitude', a spectacular public art installation developed by leading global public art producer Wild in Art, to thank NHS staff and all key workers for their ongoing courage and dedication.
Launching in Birmingham in summer 2021, ahead of a free to visit tour across the UK, 'Gratitude' will consist of 49 uniquely painted human form sculptures, all designed by individual artists and sponsored by different business who want to acknowledge key workers and pay tribute to the NHS.
For tens of thousands of people around the UK, Ocado delivery drivers are one of the heroes of the pandemic. They continue to work around the clock to deliver groceries to as many homes as possible.  Delivery drivers don't often get recognised for the work they do, but they showed  what a vital role they are playing in feeding the nation during the pandemic.
The installation will be produced by Wild in Art, who have a proven track record of delivering world-class events which entertain, enrich, inform and leave a lasting legacy. Previous work includes the London 2012 Olympic and Paralympic mascot trail, the award-winning 'Bee in the City' in Manchester and 'The Big Hoot' and 'The Big Sleuth' trails in Birmingham.
 Melanie Smith, CEO of Ocado Retail, said
"We're thrilled to sponsor the Gratitude exhibition, which is a brilliant tribute to key workers and I can't wait to see the sculptures. I'm particularly proud of the role that the whole of Ocado continues to play in feeding the nation during these difficult times and would in particular like to pay tribute to to our frontline colleagues picking, packing and delivering"
Other businesses and private individuals are invited to support the creation of this very special and significant event for the UK, through sponsorship of a sculpture, which will ultimately raise funds for NHS Charities Together, whilst also creating unique business development, marketing, employee and stakeholder engagement opportunity. Other sponsors include Atlantic Pacific Global Logistics which will be supporting the project operationally.
In becoming part of this unique event, sponsors will directly support the arts and creative industries through national and regional artist commissions, a sector hugely impacted by the pandemic.
Charlie Langhorne, Managing Director and Co-founder, Wild in Art said:
"We are delighted that Ocado has stepped forward to help turn this installation into a reality.  Our priority remains to engage another 40 companies who want to recognise the contribution of their own staff."

"There are so many benefits to becoming involved and we want to hear from other national retailers and sectors who employ key workers or companies who just want to show their gratitude to the enormous sacrifices of the NHS."
Julie Gaskell, Head of Partnerships, Wild in Art, said:
"This is a very unique sponsorship and one that will give lots of benefits to organisations getting involved. From dialogue with your artist, engaging your employees and customers, to providing a reward via the event app. Being part of Gratitude is not just affordable, it is impactful."
"Feedback from our other events is that sponsors can easily achieve a 4-1 return on investment, so you can be doing good business from doing good."
 The sculptures were revealed for the first time at Birmingham Museum and Art Gallery earlier this year, which showcased the first artist commissions from Birmingham artists MrASingh, Jess Perrin and Nisha Grover. They will be on display to the public in Birmingham in summer 2021.
After touring the UK in accessible locations including Edinburgh and London, the sculptures will be auctioned off in the Autumn with substantial proceeds donated to NHS Charities Together (Registered Charity Number 1186569), which will support the NHS, including its hospitals, ambulance services, community and mental healthcare providers and vital partnerships.
Businesses interested in sponsoring a sculpture should contact Julie Gaskell, Head of Partnerships, Wild in Art on 07768 038912, email julie@wildinart.co.uk
Locations interested in hosting Gratitude should contact gratitude@wildinart.co.uk