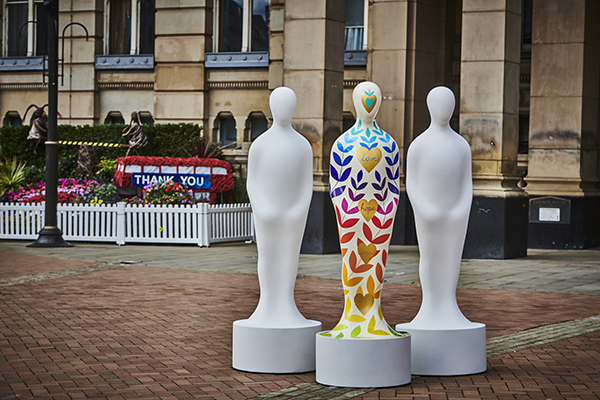 Gratitude, a spectacular public art installation to thank NHS staff and all key workers for their ongoing courage and dedication, is being developed by leading global public art producer Wild in Art, and plans to open in Birmingham in summer 2021, ahead of a free to visit tour across the UK which aims to take in high profile, accessible locations including Edinburgh and London.
The image of key workers standing together, but apart, is one of the abiding images of this time, and Gratitude will connect people and communities, artists and businesses, NHS staff and all key workers, inviting people to come together, reflect and show their appreciation.
Impactful and reflective, Gratitude brings together 49 uniquely-designed human form sculptures, sponsored by businesses, in a display which invites contemplation and takes visitors on a creative journey of discovery. The sculptures, individually designed by artists from across the UK, will reflect the stories and contributions of this unprecedented year.
Time for quiet reflection will be built into the installation's daily opening schedule, and visitors will be invited to share their own feelings and stories to develop a lasting social history of the collective experience.
Businesses and private individuals are invited to support the creation of this very special and significant event for the UK, through sponsorship of a sculpture, which will ultimately raise funds for NHS Charities Together, whilst also creating unique business development, marketing, employee and stakeholder engagement opportunity.
In Autumn 2021, the sculptures will be auctioned with substantial proceeds donated to NHS Charities Together (Registered Charity Number 1186569), which will support the NHS, including its hospitals, ambulance services, community and mental healthcare providers and vital partnerships.
"Gratitude will be a beautiful and striking tribute that celebrates the incredible courage and dedication of the UK's NHS staff and key workers and supports the vital work of NHS Charities Together.

"Gratitude will harness the creativity and engagement of Wild in Art's traditional 3D sculpture trails, to take visitors on a journey of discovery. We are incredibly excited to work with a team of talented artists and supportive businesses to develop this once in a lifetime piece of collaborative public art." Charlie Langhorne, Managing Director and Co-founder, Wild in Art
"Gratitude is a key landmark event for NHS Charities Together and will launch on the NHS's birthday on 5 July 2021. The NHS is there for each of us at our time of greatest need. As the NHS works tirelessly to provide and advance 'normal' medical care and intervention, alongside dealing with horrific reality of Covid-19, we will continue to say thank you and give back to all NHS staff, volunteers and key workers who go above and beyond for us. Our 'Gratitude' art project is a fantastic way for businesses to step forward and get involved, together we can continue to support NHS staff, volunteers and patients who are impacted in so many different ways by this dreadful virus." Ellie Orton, Chief Executive, NHS Charities Together
Find out more about how you can get involved.