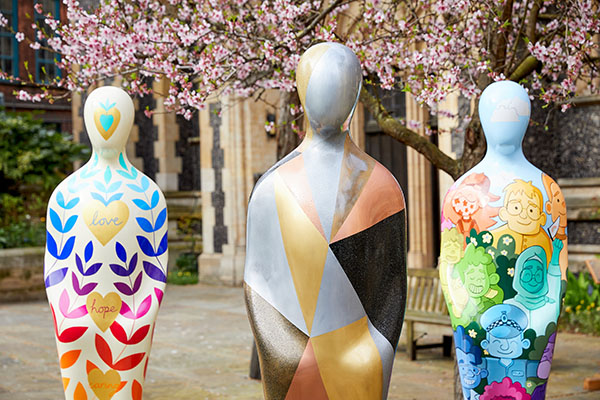 We have launched an open call for people across the UK to contribute to Gratitude, a national touring art installation, by sharing their real-life stories and poems about key workers during the pandemic, a selection of which will be recorded by a host of well-known voices from across the UK. To submit a key worker story for the Gratitude audio experience, please visit Gratitude Stories. The deadline for submissions is 5pm on Thursday 20 May 2021.
The installation will reflect the stories and contributions of this unprecedented year through beautiful art and audio which will represent the UK's nations and regions. 'Gratitude' will launch in Birmingham (20th – 30th August), before visiting Manchester (3rd – 12th September), Edinburgh (17th – 26th September), with the finale in London (1st – 10th October). Once the tour is over, the sculptures will be auctioned off to raise funds for NHS Charities Together (Registered Charity Number 1186569).
The chosen stories will become part of a spectacular, free to visit public art installation that will thank NHS staff and all key workers for their ongoing courage and dedication during the pandemic. Key figures voicing the stories so far include singer-songwriter KT Tunstall, Adil Ray OBE and actors Julie Hesmondhalgh, Ciarán Griffiths, Jamie-Lee O'Donnell, Christopher Eccleston, John Thomson and Shobna Gulati with further names to be revealed soon.
Visitors to the installation will be able to listen to stories and poems from adults and children, that pay tribute to all key workers, from doctors on the front-line to shopkeepers, carers and teachers, via the Gratitude App and website. Time for quiet reflection will be built into the installation's daily opening schedule in each location.
'Gratitude' is a collection of 49 uniquely painted human form sculptures, all designed by individual artists, and curated in partnership with creative ambassador Dame Zandra Rhodes. The image of key workers standing together, but apart, is one of the abiding images of this time, and Gratitude will connect people and communities, artists and businesses, NHS staff and all key workers, inviting people to come together to reflect and show their appreciation.
One of the first audio stories to be announced as part of the installation is from Matt Kelly, a Wigan Council service manager who last year penned a poem initially for his partner, a district nurse, which was shared on social media and touched millions. The poem, 'Our Heroes' was then brought to life on BBC Radio 5 live, by one of the UK's most prominent actors, Christopher Eccleston and will also form part of one of 'Gratitude's' audio stories. On voicing the poem again for 'Gratitude', Christopher Eccleston said:
"There was such a heartwarming response to Matt Kelly's poem so it will be wonderful to be able to help bring the exhibition to life through his words."
Matt Kelly said:
"I am delighted that 'Our Heroes' will be part of this fantastic project. During this last year, our Doctors, Nurses, carers and support staff have quite literally saved us from this awful pandemic. The war like effort of the NHS and the scenes I was seeing on the news helped inspire me to write the poem at the start of the pandemic. At the time, it was a poem of hope, but one year on, it is becoming a poem of nostalgia and gratitude. This project is a fitting tribute to our wonderful heroes."
From today, Wild in Art is calling for members of the general public, across all ages and backgrounds, to submit their stories for a chance to be included in the installation and voiced by a key figure. The submission, which should be no longer than 500 words in length, must tell a personal story about a key worker and showcase the amazing work they have done during the pandemic. It can also be a story about themselves, for example if they work as a key worker or if there is something a key worker has done for them personally that has made a difference to their life. All details and guidelines for submissions can be found on the Gratitude website.
On the project, Scottish singer-songwriter, KT Tunstall said:
"I am delighted to be contributing to 'Gratitude', a wonderful project that will help shine a much-needed light on all of our key workers, who have worked so hard during this challenging year. It's fantastic to see that the whole country will be represented in the installation, with contributions from artists, stories and voices from all corners of the UK."
Good Morning Britain presenter and actor, Adil Ray OBE said:
"I'm delighted that 'Gratitude' is launching in my home city of Birmingham and I am incredibly honoured to be voicing one of the stories. The pandemic has affected us all in so many different ways, so it's wonderful to be working on such a creative and thought-provoking installation, that we can all contribute to and experience."
Coronation Street star and Celebrity Best Home Cook 2021 contestant, Shobna Gulati will voice one of the stories, she said:
"I am so pleased to be part of 'Gratitude'; the installation and the stories it will tell, provide a wonderful way to pay tribute and give thanks to all of our key workers, who have supported us in every possible way throughout this extremely difficult time."
When asked about taking part in the installation, Coronation Street and Broadchurch actress, Julie Hesmondhalgh said:
"What is not to love? A piece of public art that gives us the opportunity to thank the millions of key workers who have risked and sacrificed so much to keep society ticking along in these most challenging and heart-breaking of times- just wonderful! All the bin collectors and shop workers and delivery drivers; the NHS staff, from the cleaners to the consultants, our incredible teachers and our care givers. An opportunity to remember, to reflect, to be thankful. I'm so happy to be a small part of this."
Masked Singer 2021 contestant and Cold Feet actor, John Thomson said:
"Delighted to have been asked to contribute to this excellent project. Inspirational and creating awareness too!"
Derry Girls actress, Jamie-Lee O'Donnell said:
"I am proud to be supporting the NHS and key workers during this difficult time. They are an inspiration to us all!"
Actor Ciaran Griffiths (Shameless, The Bay) said:
"I am so excited to be contributing to 'Gratitude', it's going to be an amazing project and a real honour for me personally. I am currently based in Sydney, Australia but I speak regularly with my family in Manchester and have heard so many positive and touching stories about our key workers during this challenging time. I am so glad that I can help to shine a light on the incredible work that the NHS and other key workers do across the country."
Charlie Langhorne, Managing Director and Co-founder of Wild in Art said:
"We're delighted to have the support of so many well-known figures to help us to bring words and art together to tell the story of this unprecedented time. We hope people will be inspired to submit their stories and poems and we look forward to listening to them as part of Gratitude this summer."
To submit a key worker story for the Gratitude audio experience, please visit Gratitude Stories. The deadline for submissions is 5pm on Thursday 20 May 2021.
Businesses interested in sponsoring a sculpture should contact Julie Gaskell, Head of Partnerships, Wild in Art on 07768 038912, email julie@wildinart.co.uk